Book your seat today!
Use the form below to secure your game.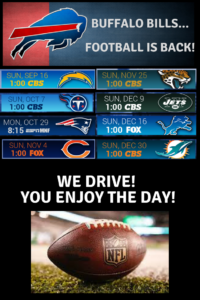 Exciting News for The Upcoming Buffalo Bills 2018 Season!!
Luxury Limos is offering transportation for individual sales to all home games!!
Pickups will be in Hornell @ 8:15 am from Wegmans 
Dansville @ 9:00 am from Save-a-lot
$ 75.00 per person, which includes gratuity to the driver and parking costs. 
**All scheduled trips will need a minimum of 16 seats to be sold**
For more information or questions,
Please Call Us @ 607-382-7712.
LET'S GO BUFFALO!